This is a low cost 2 channel smart relay module ideal for hobbyists and educational school projects as well as lighting and automation for home, commercial and industrial. It can be connected to provide power switching for Arduino, Raspberry Pi and other controllers. Use the standard configuration or reprogram it to suit a specific application. Use it as a micro-controller programming training board that turns into a useful project that can safely control mains power loads.
There are 2 power relays, 1 low voltage output and 6 control inputs. It operates from 12V DC. One of the inputs supports a temperature sensor or light sensor. The on-board PIC micro can be used as supplied or it can be reconfigured.
The schematic and standard programs are open source, providing a working unit, starting point and template for changes.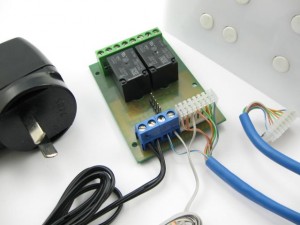 Details here
Product here