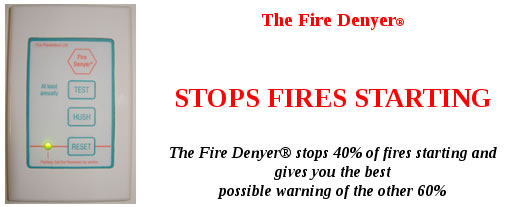 The Fire Denyer is a home fire alarm that also prevents the most common fires from starting, protecting family and home.  Smoke detectors alert of the fire danger and cut power before a fire develops. Effectively  preventing the majority of kitchen fires.  Additional smoke detectors and alarms provide early warning to others in the home.
Acknowledged by fire professionals, insurance companies, building industry authorities and fire prevention organizations. The Fire Denyer has been installed in many homes and apartments.
Protecting Lives and Property
Every day, many people are affected by fire. The Fire Denyer can prevent the most common type of fire from starting and gives effective warning of possible danger. Cooking or kitchen fires are among the most common.
Preventing Kitchen Fires
Every kitchen needs a Fire Denyer. It can be installed into existing homes and should be high on the priority list for new building and renovations.
Younger people are busy and cooking is not always a high priority. The older and more experienced among us are also busier than we would like to be. It's too easy to forget the pot on to cook. For anyone, a simple distraction can easily lead to a kitchen fire.
The fire service gives us good advice – to get out of the house. But they don't have to worry about irreplaceable family items, insurance companies and cleaning up the mess. Wouldn't it be easier to just prevent the fire ?
Kit Price
Costing $649.00 plus GST, The Fire Denyer Kit provides the following components:
The Fire Denyer Controller and battery pack
One Contactor for installation at the switchboard
Four hard wired smoke detectors
One User Manual and Installation Guide
note: GST is a New Zealand sales tax – and does not apply to exports.
Installation costs vary.  The best time to install is when building new or renovating.  Your electrician can advise installation costs.
Sooner rather than later – Prevent fires – Protect lives and property
For More Information
.