To suit the PMB-tracker-T1 tracking transmitters and Fox-Hunt transmitters.
For more information see: Tracking Guide and Tracking Antennas
Introduction
We offer three versions of the standard receiver
Mini version (headphones only).
Fully assembled in case with internal speaker and battery, all features and ready to go.
A kit version which is a full receiver but without the case.
All three versions operate in a similar way and achieve the same result. This is an AM data receiver that when combined with a directional antenna can be used to locate a lost model carrying a tracker transmitter. This is a simple but effective receiver. Listen to the audio from the receiver through the speaker or headphones and track using the directional antenna in the direction of the strongest or clearest signal, a series of beeps, from the tracker. Headphones are highly recommended as they cut out external noises and make it easier to hear and compare the transmitter beeps.
The Mini Receiver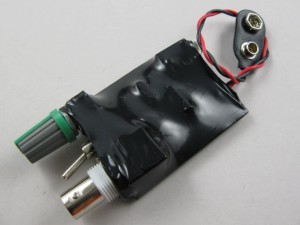 This is the cheapest option. Supplied complete and tested but needs you to provide a 9V battery and earphones or headphones. The mini receiver can be uilt in to an enclosure if you choose.
Receiver performance is the same as the other versions.
Power can be provided by a standard 9V battery or a 2-cell or 3-cell Lipo battery with a suitable adaptor on the power lead. Power draw is low, but you can flatten the battery if left connected when not in use.
The kit includes:
Receiver , assembled and tested
The customer provides:
9V battery
headphones
enclosure if preferred (and some assembly)
The Fully Assembled version
This is ready to go. Function is similar to the other versions but with a few extra features, including:
complete unit, robust and ready to use as supplied (battery supplied already installed)
auto power off – after about 10-minutes
internal battery
internal speaker
squelch
| | |
| --- | --- |
| functions |   |
| control or connector | description / notes |
| on/off – squelch | Press and hold for about 5 seconds to turn on. Momentary press to toggle the squelch |
| volume knob | Just a volume control |
| LED indicator | Indicates reception and to turn off |
| attenuator switch | 1 switch provides no or full attenuation of the incoming radio signal. |
| antenna connector | BNC. standard 50 ohm antenna connection |
| headphone socket | Accepts most standard stereo headphones |
On/Off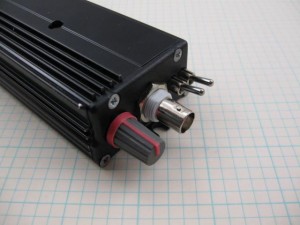 Press and hold the button for about 5 seconds and the receiver will stay on. You should hear the background noise hissing from the speaker. Check the volume is about 1/4 turn clockwise.
To turn off, press and hold the button. The LED will blink 9 times then stay on. Release the button and the receiver is off.
Squelch
This just prevents the background hissing from the speaker. It works well at closer ranges, but when the signal is weak or distant, you need the squelch open to hear all received noises. Each momentary press of the button toggles the squelch open or closed.
Attenuators
This is where it gets a bit tricky. Up (speaker side) is off, or no attenuation. Each switch adds more attenuation, minimum to maximum ie. 00, 01, 10, 11. The receiver is very sensitive so the use of the attenuators is an acquired skill; experiment. To begin with just leave them both up, for no attenuation.
More attenuation is like having a lower gain antenna. The antenna will have more effect on the operation of the receiver during tracking.
The kit version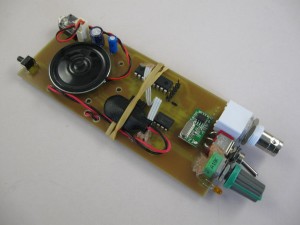 The kit version keeps the price down a bit. The circuit board provided is complete and tested but needs to be assembled into an enclosure and a power source provided. It is important to protect the electronics at all times. Reliability and function will depend on it. A plastic enclosure will work but a shielded metal enclosure is better for homing in at short range.
Power can be provided by a internal battery or an external supply such as a 3-cell LiPo or 8-cell NiMh pack that most modellers will have available. An external supply probably means that the receiver does not have flat batteries when you most need it.
.
The kit includes:
Receiver circuit board (assembled and tested)
Speaker
connectors
The customer provides:
the enclosure
assembly – some basic soldering is required
headphones – highly recommended
Antennas
We have a directional yagi antenna available here. You can also buy 433MHz or 70cm HAM band antennas, or you can build your own. Antennas are part science, part art, so we do not provide antenna designs nor too much construction advice. If you want to build your own, there are many designs and a lot of theoretical information on-line. To get a DIY antenna working well requires suitable test equipment and/or a lot of trial and error testing. IT can be quite interesting.
Testing the Tracker and Receiver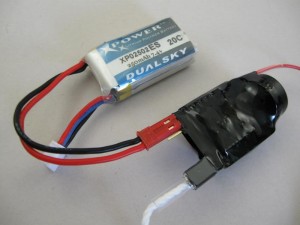 The first step is to get the Tracker transmitting. It will not transmit until after it has detected 5 Volts and the PPM (servo) signal has been lost.
connect 5 Volts (or a 2-cell lipo) to the tracker as shown
remove the jumper – after a short delay it beeps a little tune
75 second later it beep another little tune
about 6 minutes later it begins transmitting
replace the jumper to shut it off
At Step-1 : It sees the voltage and about every 6-sec the tracker will emit an audible tick.
At Step-2 : On the next tick it will beep a little tune.
At Step-3 : It is now looking for PPM signal; which may not exist if just applying 5V or a 2-cell lipo.
When the PPM (servo) signal is steady or missing, about 6 minutes later it begins the beacon transmission. You can head audible beeps with the transmissions.
Note:
replacing the jumper before step-3 will put it back to sleep
removing the 5V/lipo before step-3 will put it back to sleep
removing the 5V/lipo after step-3 will not stop it
removing the jumper without applying 5V/lipo will not start the tracker
When it is beeping periodically, you can use the receiver to test antennas, tracking range etc.