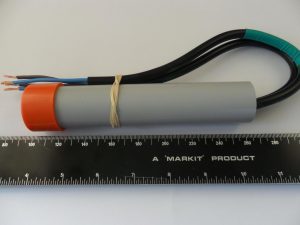 The StreetLight Controller is a outdoor module that is typically connected to streetlight circuits to control decorative or special function lighting.  It provides remote on/off control for any lamps and remote mode-changing and lamp synchronization for matching lamps.  The benefit is reduced management and maintenance time, therefore cost to councils.
Can be used to control any 220-240V AC load up to 200 Watts.
Streetlight Circuit
This is usually a power circuit that is switched on at dusk and off at dawn.
Remote On-Off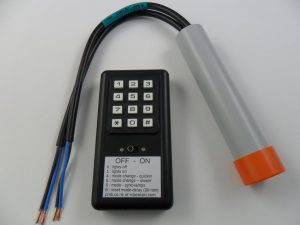 This allows decorative lighting to be turned on or off, remaining in the chosen state as the streetlight circuit operates normally each night.  The DSLC controller remembers the current state.
The remote control uses a 2.4GHz wireless link to the controller modules.  These are keyed to the controller modules and can be individualized at manufacture per customer or per installation.
The remote is supplied separately.
Cable Type and Length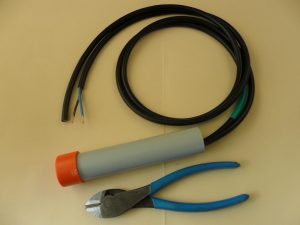 The standard cable is a Outdoor Rated 1.5mm Twin Round PVC.  The standard lengths are nominal 300mm and 1000mm (1 meter).
Longer lengths can be provided at an increased price.
Other cable types and lengths can be fitted at manufacture within certain limits – contact us if you have a specific requirement.  The units are potted making it impossible to change the cable later on.
We can supply a 3-core lead (1.5mm outdoor round PVC) with the earth lead connected through as an option.
We have chose 300mm and 1000mm as standard lengths at different prices because cable is expensive and we would rather not just supply the longest leads when the excess may be cut off and scrapped or discarded.
Mode Changing – Color changing lamps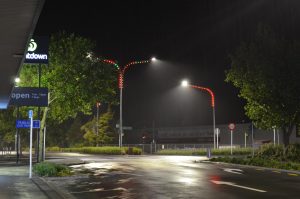 This function applies only to specific color-changing lamps – red/green and white.
These strings of lamps often run red/green alternating during the Christmas season and are switched to white-only for the rest of the year.
The remote control allows for switching between modes as well as synchronizing the lamps on a string when lamps are changed.
Mode change is a toggle function.  To prevent repeated toggling a 30 minute delay prevents toggling after the first change.
Typical Installation
One DSLC controller per pole controlling a string of decorative lamps, power tapped from the standard streetlight circuit.  The DSLC controller can be mounted wherever convenient taking into account electrical wiring safety requirements.  It can be strapped to the outside of a light pole or enclosed with other equipment.
When mounted out in the weather, for longest life, the wiring end must be lower to prevent water pooling in the end.
Mains power is connected to the red marked or unmarked lead.  The lamp string is connected to the yellow or green marked lead.  Brown or Red core Phase, Blue or White-core Neutral.  Reversing the supply and lamp wiring will not damage the unit, it just won't work.
For outdoor exposed installation, waterproof crimp connections must be used.
The metal tab at the wire end increases the power handling to suit poles with more lamps – usually multi-arm poles at roundabouts.
Specifications
The DSLC controller is a potted unit for outdoor installation.
165mm x 35mm + wiring, 270g (with 300mm wiring) weight
Potted for outdoor mounting – no enclosure required
220-240V AC
6A fuse – recommended on supply side
100 Watt maximum load – standard unit
200 Watt maximum load – with additional heatsink tab.
Wiring : PVC round twin flex 1.5mm – approx. 300mm length
optional : PVC round twin flex 1.5mm – approx. 1M length
2.4GHz wireless control
50M or greater control range – depends on environment and mounting
.
Notes:
A longer range remote control transmitter could be supplied – inquire for details.
Other functions available – ie. belisha beacon flasher
Coding:
The remote control transmitter and control receivers are coded together – matched.  The coding can be set at manufacture.  It may be that a system-installation should be coded differently to a nearby system.  It will generally be up to the customer to keep track of the code used for the future units.