My First Radio Scanner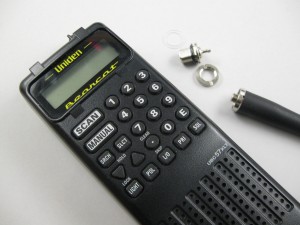 This is the first scanner I bought; probably 7 or more years ago.. Mainly because it was cheap at the time.
It covers the 433MHz frequency range but I am pretty sure it defaults to FM and cannot be manually switched to AM reception.
Another problem was it had a non-standard antenna and connector. It wasn't a BNC or SMA.
Lost Model Tracker
Although not ideal, this scanner does receive the tracker signal well enough to be quite useful. The squelch must be open (hearing the hiss) to hear the tracker. Try adjusting tuning frequency for the best signal. It is best to do this and not the frequency before loosing the model. I found that 433.835MHz worked well for me; although the theoretical centre frequency of the tracker beacon is 433.92 MHz.
Operating the Scanner
I find the Uniden scanners infuriating to operate; programming is confusing and I don't think they do the simplest things very well.
As far as I can tell, you can not just manually enter a frequency and then tune up and down.
press SCAN and it will scan through your pre-programmed channels.
press MANUAL and it steps through the pre-programmed channels one by one.
enter a channel number and press MANUAL to go to that channel.
to exclude a channel from the scan, use MANUAL to select the channel and press L/O – again to clear the lockout.
There are 5 search ranges. You enter start and end frequencies and then press SRCH to run the scan/search. Press SLCT to select the range to program or search. The up/down triangle buttons decide whether it searches forward or backward.
Changing the Antenna Connector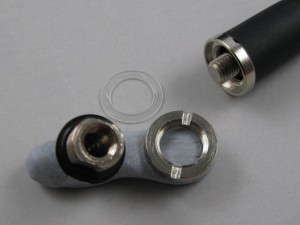 This image shows the original antenna connector. With a bit of DIY effort I was able to change the connector to a BNC.
From memory there is a metal plate inside the supports the connector. This was reamed out to accept the BNC bulkhead fitting. The hole in the plastic case was also enlarged to take the diameter of the BNC plug on the new antenna.
The Uniden Description
This hand-held scanner with full frequency display offers 20 programmable memory channels – 8 bands.
Frequency ranges received are 66-88, 137-174 and 406-512 MHz. Chain searching allows five different personal search bands and the ability to search up to all five chain locations at once. Priority scanning allows a designated priority channel to be monitored every two seconds.
The UBC57XLT also has Police Channel Search which allows you to search through the 64 pre-programmed police channels.
Note: no police channel search on NZ models.