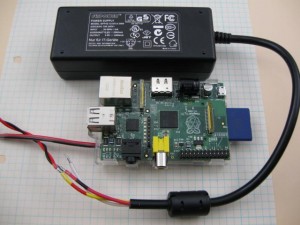 Following from the last post, I have been looking at the Raspberry Pi power supply and powering a USB external hard drive (HDD). I also changed from the 850mA Motorola phone charger to a 2 Amp 12V/5V supply (just connected the 5V) that was left over from a dead DVR.
Power feed direct to the USB connectors
I moved the hard-wired 5V feed from the fuse and protection diode directly to the dual USB connector. This is where the HDD will draw its power from.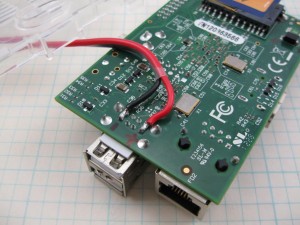 This arrangement was easily able to start the HDD and the Raspberry Pi when they were both powered on at the same time ie. the HDD already plugged in. The problem was that when the HDD was plugged in with the Raspberry Pi already operating, it would reset and reboot. On one occasion it must have corrupted the SD card; I had to reload it and start again.
Add a Capacitor to improve stability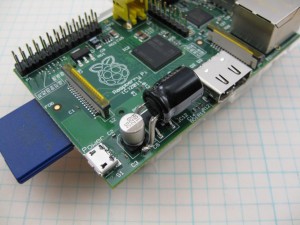 The solution to this reboot problem was to attach a 1000uF 6.3V capacitor to the Raspberry Pi across the existing 220uF on-board capacitor which is on the incoming 5V supply.