What Happened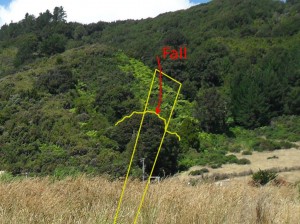 Flying late one afternoon I was spotting and the Hex with a Naza controller with GPS was being flown FPV about 200 meters away at about 70-80 meters altitude over a long-grass field. It stopped responding to RC and was switched to RTH mode (return to home). It reversed rapidly towards the hill and dived into the trees.
Not a big deal we thought as I had noted where it went in disappearing from view instantly it went down behind the perimeter of the big trees in front. There was no movement of the trees anywhere around, so it most likely crashed just out of view behind these trees. There was no RC contact or FPV signal.
Without finding it, we don't know why it crashed. Possibly a controller problem; it did something similar some months ago, but no damage that time. Since then it has been working well. We had just checked the ESCs, motors and props a couple of minutes before. Not more than just warm and props tight with no damage.
No, it was not carrying a lost model tracker.
Off to search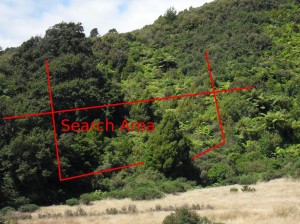 We searched for about an hour before it began to get dark in under the canopy. This was Thursday and the next search day was Saturday. Friday afternoon I flew over the area and got some HD video looking straight down. It was a bit gusty so the video is shaky but OK for stills. No sign of it, but not unexpected as it went into the canopy  hard.
The search area is only 270-350 meters from where we were flying. Not a long way and within visual range.
Over the next 8 days we revisited and searched, probably totalling 40-50 man-hours.
It's not a large area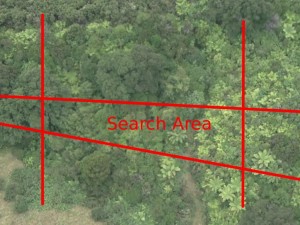 The search area is about 20M x 80M. The 20M width is based on the line of sight from where I watched it go down and noting the line of sight along which it crashed. The 80M distance is based on the front large tree and where the hillside rises into view behind the front trees. There is a old vehicle track crossing the search area about 60M back.
Below the track the canopy is dense and high, probably 10-15 meters up. On the ground it is steep, and covered in vines and smaller plants, a lot of ferns and old dead stuff.
Above the track the canopy is about 3 meters up. Mostly younger ferns and scrub very dense. You can see only about 2 meters in any direction and it's very difficult to know where you are within the search area; or even if you are within the search area.
It looks like it's lost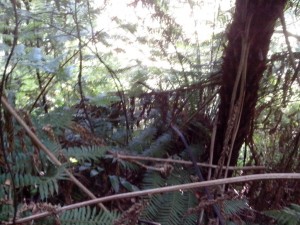 It's amazing that such a small area of scrub can hide a reasonable sized multirotor. Yes, we did expand the search area by 20M or more in each direction.
This picture was taken in a clearer part of the lower front area.
We will probably go back in a week or two for another scout about, in case it fallen from the canopy or we just see it from a different angle.
What I have learned – GPS
I've learned a few things from this exercise, or rather reinforced existing thoughts.
Always fly with a lost model tracker
If you have FPV, record every flight at the ground-station
If you have FPV, use at least a cheap OSD
Always fly with a lost model tracker BUY ONE HERE 🙂
GPS and Google Maps
I recorded a track of one search but the alignment error with Google maps was larger than the search area. The Google maps satellite images for this are old and very low resolution.