Video Transmitter Mounting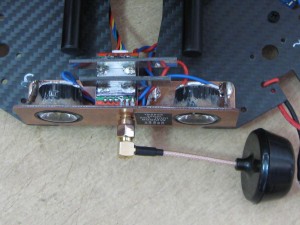 The small video transmitters get quite hot.  They are supplied covered in a protective heat-shrink which also reduces their heat dissipation.  The hotter they run the less reliable they are; or the more likely they are to fail.
This mount was assembled with heat dissipation and a solid and convenient mounting in mind.  It also mounts two very bright, directional LEDs that clearly indicate to the pilot and observer the orientation of the machine when flying.
The antenna SMA connector on the 600mW 5.8GHz transmitter is soldered to the bracket made of double-sided coper laminate (PC board material).  The heat-shrink on the transmitter is removed and a lot of the heat is transferred through the connector to the bracket.
Two additional fins of double-sided laminate are soldered on edge to the transmitters metal cover.
LED Mounting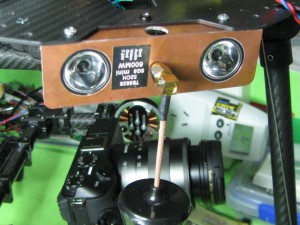 The transmitter bracket also mounts two 3-watt white LEDs in 5-degree lenses.  Mounted at the back of the back of the multi-rotor, they are clearly visible to the pilot at a long distance even on bright sunny days. The LEDs are flashed to reduce the average power and heat generated.
The Lenses are a tight press fit into holes in the bracket and held permanently using "liquid nails" building adhesive.
Three 3mm steel nuts are soldered to the bracket providing secure mounting.
The large hole in the top of the bracket provides access to the video transmitter channel selection switches.