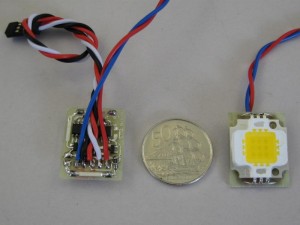 I have just been experimenting with a new high power LED strobe. Details here.
Designed with RC models in mind especially larger gliders and FPV models, it is intended to make these more visible at a distance.
Range testing so far along ground level suggests that the strobe is visible out beyond 1KM. I still have to test it on a model in the air against a brighter sky.
The strobe uses a 10W white LED that is pulsed at up to 150% of its continuous current rating.. The pulses are only short so the average power is much lower than its maximum rating which should ensure long term reliability. A microcontroller on-board handles the flashing and decodes the optional PPM control signal.
This strobe is designed to operate from a 3-cell LiPo battery. Therefore a maximum of 12.6V and down to about 10V minimum. The strobe is brighter at the higher end of the voltage range, but without making it a lot more complex or expensive it's a small disadvantage.