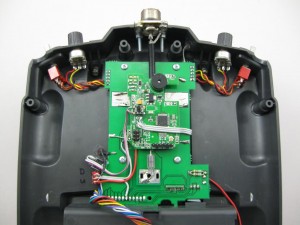 I decided to fit a OpenLRS module inside the radio rather than use the module. Using a receiver as a transmitter was one option, but I decided to strip the module and clean up and install the PCB.
Read more here.
All together about 4 hours work. Most of that cleaning up the OpenLRS circuit board.
I fitted the PL259 antenna connector to the radio maybe 2 years ago, when I also installed LCD back-light and a FTDI USB connector for easy updating of the radio firmware.
I've had this 9X radio since they first came out. It was one of the originals with a telescopic antenna.