I have been thinking about small scale solar and wind power generation for some time, with a thought to reducing grid power consumption on a per home basis. Until recently solar panels and electronics required have been too complex and expensive. Now we are seeing lower cost solar panels and inverters. Unfortunately, at this moment solar panel mounting and batteries still seem a bit expensive.
Wind Power
Wind is very up and down. there seems to be too much or not enough. This is just how it is if you don't live on a large hill on the coast. The main advantage seems to be that it works day and night. A disadvantage would be the mechanical maintenance required to keep it reliable and safe. You can't have bits falling off from time to time.
There are a number of smaller wind generators available now. But to me they don't look robust enough and I'd be concerned about reliability after a year or so. Some years ago I installed and maintained a small marine wind generator that was powering radio equipment on a hill top. This proved to be unreliable and far too much work to maintain; overall far to expensive. Although when working properly, it produced plenty of power most of which was dumped into a large shunt.
I'm now looking at small VAWT (Vertical Axis Wind Turbine) generators. More to come.
I've been logging weather data for about a month now. It will be interesting over time.
Solar Power
I have recently purchased one 190 watt 24V solar panel to do some experimenting.
I've tested a couple of cheap PWM controllers with a smaller solar panel and found that although they work, there is a lot of room for improvement. Not the sort of things that increase price, but rather attention to detail. A lot of the negatives are due to simple poor design decisions based on the need to get it on sale fast and no need for longer term support.
My plan at the moment is to build a MPPT controller using Microchips application note 1521A as a starting point. I have ordered parts to assemble a couple of MPPT controllers. Ignoring the time investment to design the circuit board (a couple of days) for the moment, for a 250W controller, the cost of parts is about $50, and a couple of hours to hand assemble. The biggest effort and challenge is in the firmware and testing.
It would be easier and quicker to buy a MPPT controller but this approach gives me unlimited control and on-going data logging of all parameters. Maximizing efficiency and minimizing quiescent draw is also important as I'd like a controller that can operate with small panels. One small simple controller that can take input from a solar panel and small wind generator would be nice.
I expect that over the next year or two we will start seeing low cost MPPT controllers replacing the low end PWM controllers. Recently I've been looking at MPPT in some detail. It's just a matter of time before the low cost manufacturers come up with working MPPT firmware to go with $30 hardware.
Update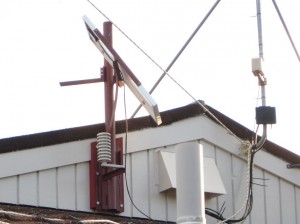 I have installed a steel base to mount a small wind generator and the other gear; wifi, antennas and weather station. The old TV antenna mast will go.
It's made of 3mm steel angle and tube with a 66mm diameter 1.6mm wall central tube. A taller extension tube slides on to the main tube. At the moment it is painted inside and out with Corroless rust inhibiting paint but will be painted the same colour as the woodwork.
Initially just supporting a small 20 watt solar panel facing North and a spare weather station sensor.