What's the plan and why
A few years back I was looking at building a larger (about 2M) flying wing for FPV.
Since then I have been playing with multi-rotors. Not the 250 racing size but rather 350-400 FPV types.  Considering the short flight times, relatively high accident cost in time and parts, the apparent negative public perception at the moment and the declining number of flying locations,  I have decided to go back to FPV planes for a while. With the possibility of a few useful applications.
But with the improvements in technology over the last 2 years it is now possible to build a much smaller and more capable FPV plane at a lower cost.  This is also a electronics and development project, so not for everyone.
The goal is for small size, long flight times, safe and reliable, easy to operate.  Long range is not a primary goal but to be reliable out to a couple of KM, it will work over longer distances.
Why a small flying wing
A number of reasons, but mostly because: they are easy to build from scratch, fly well, are efficient, are easy to waterproof and are easy to transport and store without dismantling.  It also means fewer problems with batteries; smaller, more options and easier to get.
Smaller size means it won't be as stable in the air; where I hope a flight controller will help. Smaller size means more robust, draws less attention and is safer in general. It also means lower cost overall; taking into account materials and build time.
I'm not in a hurry, which gives me time to think about the goals, details and build process in some detail before getting started.
One control board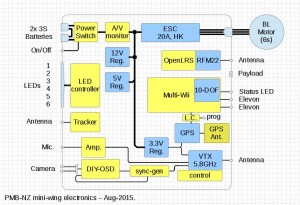 To keep the weight down and simplify assembly and later duplication, I have decided to go with one circuit board carrying all of the radio, control and fpv equipment.