This unit has gone to a new home
A piece of our micro development past has moved on as of April-2019.
During the late 1990s I developed some home automation controllers based on the 68HC11E20 which was one time programmable in a 52 pin PLCC package and later the 68HC11 F1 in a slightly larger PLCC package and supported external memory, Flash and RAM.
Time for a tidy up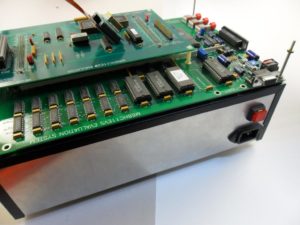 We had the Motorola Evaluation System that was taking up space and would never be used here again.  Originally purchased from Arrow New Zealand back in the late 1990s for a specific project using the 52-pin HC11.  It was not used as delivery was very slow and the project switched to the HC11F1 which required a different emulator board and cable.
The main board has a M68HC11E20 Emulator board fitted on top.  The whole thing was mounted on a metal enclosure with a power supply inside.  Complete with target ribbon cable and PLCC52 adapter.