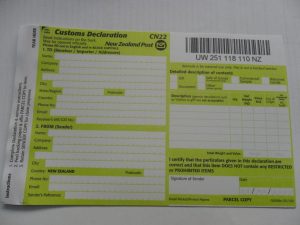 We have increased our base shipping prices for small packages due to NZ Post significantly increasing prices and the introduction of a much more complex and time consuming customs form.
For smaller Air-Post packages, until recently we would print the address label, attach it to the package and complete a simple green customs form and stick it to the package.
The simple green customs form has been replaced with this larger form requiring full to and from addresses hand written in block capitals as well as the original contents detail.
If you send a package overseas occasionally this is not too bad.  But when regularly sending low value items by Air-Post it adds to the cost.