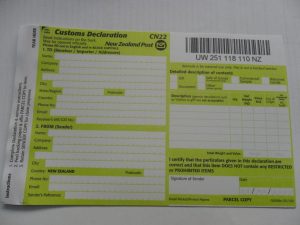 Manual shipping of small packages through a NZ Post Shop has become significantly more costly with increasing prices and the introduction of a much more complex and time consuming customs form.
For smaller Air-Post packages, until recently we would print the address label, attach it to the package and complete a simple green customs form to stick on the package.
The simple green customs form has been replaced with this larger form requiring full details hand written in small boxes in block capitals.
If you only occasionally send a package overseas this is not too bad.  But when regularly sending low value items by Air-Post it adds significantly to the cost.
As of about February 2021, we are sending local and export packages by NZ Post, booking on-line and have a courier pick up.  This is significantly easier, quicker and less costly.